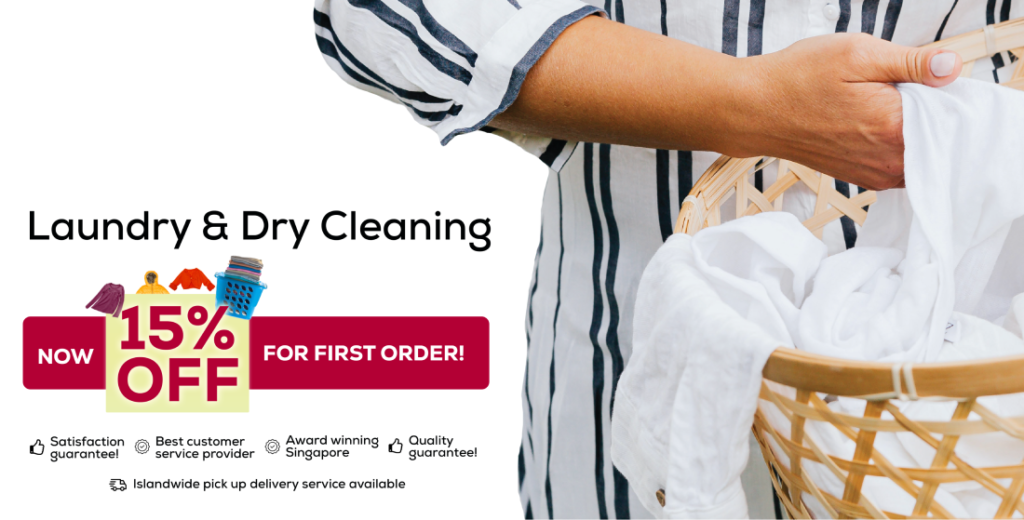 Discover excellence in dry cleaning and laundry services at Big Mama. With a reputable presence in the industry, Big Mama has upheld a legacy of reliability and quality over a significant period. Leveraging cutting-edge dry cleaning technology, we ensure unparalleled dry cleaning results. Trust us with your clothing and experience an affordable blend of top-tier service and uncompromising standards.
…
Read More
Moreover, we address the issue of low incidental rates through a meticulous collection-to-delivery process. With experienced drivers adhering to strict guidelines, your items are safeguarded from start to finish. We also offer added convenience with two storefronts—Ngee Ann City and West Coast Plaza—ensuring easy access and enhanced accessibility for our valued customers.
With a history that spans numerous years, Big Mama stands as an emblem of trust within the industry. Our extensive experience is a testament to our unwavering commitment to delivering exceptional services. Combining affordability with superior outcomes, we take pride in being your trusted choice for all your dry cleaning and laundry requirements.
Why Choose Big Mama for Laundry and Dry Cleaning Services?
When it comes to the care of your cherished garments, Big Mama stands as your ultimate partner. Our dedication to excellence sets us apart, making us the preferred choice for discerning individuals. We employ the right tools and techniques to maintain the cleanliness of your clothing articles, bedding, and other miscellaneous items.
Our laundry and dry cleaning services are powered by advanced technology. We ensure that your clothing receives the utmost care and attention with our cutting-edge equipment and techniques.
Our laundry and dry cleaning experts exhibit the same level of skill and care that defines our service standards. Your garments are treated with precision, ensuring they receive the best treatment.
Our laundry and dry cleaning processes are designed with careful consideration, using safe and effective techniques that ensure the optimal care of your items.
Benefits of Laundry Services and Dry Cleaning
From hectic work schedules to looking after your family, washing your laundry at home can be quite time-consuming. It is a common sight for many Singaporeans to take time off their weekends simply to do their laundry. This is where our cleaning services, specifically our good stream of laundry services come to play. With a vision to continuously improve for the better, we always have convenience, cost and time savings, and productivity at the top of our minds when serving our customers in Singapore. 
So, what are the benefits of sending your laundry to our dry cleaning and laundry shop in Singapore?
Convenience
Enjoy the ultimate convenience with our door-to-door delivery service, bringing clean and neatly packed laundry directly to your home in Singapore.
Need your garments ready for a special occasion? Our express laundry services guarantee quick turnaround times for your urgent needs.
Simplify the process by booking our laundry services online with just a few clicks, saving you time and effort.
Cost Saving
Say goodbye to the costly water bills associated with frequent home laundry. According to Singapore's National Water Agency, laundry contributes significantly to household water consumption.
Benefit from our affordable dry cleaning services in Singapore, eliminating the need for expensive washing, drying, ironing, or steaming equipment at home.
Time Saving
Bid farewell to the time-consuming cycle of washing, drying, ironing, and folding laundry. Traditional laundry routines can consume hours of your valuable time.
Opt for our efficient dry cleaning services in Singapore and regain your precious time. Our expert team handles every step, ensuring your clothes are impeccably cleaned and ready to wear.
At Big Mama, we utilise advanced cleaning methods to ensure your garments receive the care and attention they deserve. Our laundry and dry cleaning services are designed to deliver the best possible results for all types of fabrics and materials.
At Big Mama, we understand that your everyday clothing requires special care to maintain its quality and appearance. Our laundry services are designed to effectively clean and rejuvenate your garments while ensuring they remain in pristine condition.
Big Mama offers premium dry cleaning services that cater to the delicate and intricate nature of various fabrics and garments. Our dry cleaning process is designed to effectively remove stains, odours, and dirt while preserving the texture and colour of your items.
When you're in need of swift and efficient cleaning solutions, Big Mama has you covered with our convenient next-day laundry and dry cleaning services.
Whether it's a last-minute event, unexpected plans, or simply a desire for immediate freshness, our next-day cleaning option ensures that your garments receive prompt attention and care.
Initiate the process by visiting our user-friendly website or web app. Navigate to the "Laundry/Dry Cleaning" section and book our services. Select the items you need to be cleaned urgently. Provide us with your address and choose the preferred time slot for collection and delivery.
Our dedicated team will arrive at your doorstep within the chosen time slot to collect the items. Simply hand over the garments you need to be cleaned. We'll take care of the rest.
Once collected, your garments undergo our expert cleaning process. Our skilled professionals utilise advanced techniques to ensure thorough and effective cleaning.
After the cleaning process is complete, each garment undergoes a meticulous quality inspection. We ensure that every item meets our high standards of cleanliness and presentation.
Following the quality inspection, your freshly cleaned garments are promptly delivered back to your doorstep. Our efficient delivery team ensures that you receive your items within your selected time of delivery.
Laundry & Dry Cleaning Price
| | | |
| --- | --- | --- |
| Articles | | |
| Top | Price | Price |
| Coat / Jacket | $9.50 | $10.50 |
| Shirt (Short Sleeve) | $6.00 | $7.00 |
| Shirt (Long Sleeve) | $6.00 | $7.00 |
| Blouse | $6.00 | $7.00 |
| Sweater / Cardigan | $6.00 | $7.50 |
| Windbreaker | $12.00 | $15.00 |
| Winter Coat / Jacket | $20.00 | $23.00 |
| Trenchcoat | $20.00 | $23.00 |
| Bottoms | Price | Price |
| Trousers / Bermudas / Jeans | $6.50 | $7.50 |
| Skirt | $6.50 | $7.50 |
| One Pc | Price | Price |
| Dress | $11.90 | $13.90 |
| Suit – Top & Bottom | | $18.00 |
| Evening Dress / Gown | | $30.00 |
| Traditional Costumes | $20.00 | $25.00 |
| Household and Bedding | Price | Price |
| Bedsheet | $7.90 | $9.90 |
| Pillow / Bolster Case | $2.50 | $3.30 |
| Comforter / Blanket / Quilt | $13.90 | $15.90 |
| Quilt Cover | $10.90 | $13.90 |
| Mattress Protector | $12.00 | $15.00 |
| Cushion Cover | $7.50 | $9.00 |
| Sofa Seat Cover (per seat) | $7.50 | $9.00 |
| Sofa Slip Cover (per seat) | $18.00 | $20.00 |
| Load Wash (per kg) – (Wash & Fold) | $6.00 | |
| Miscellaneous | Price | Price |
| Scarf / Muffler | $8.00 | $9.00 |
| Shawl | $11.00 | $12.50 |
| Tie | | $6.50 |
Experience the simplicity and convenience of Big Mama with our straightforward and efficient process. We ensure that your cleaning needs are met with speed, reliability, and the utmost satisfaction.
Reach Out: Whether you're on our website or mobile app, inform us of your specific service requirements and your preferred location within Singapore.
Swift Response: Anticipate a prompt and courteous response from our dedicated team. We value your time and prioritise speed, ensuring that you receive the assistance you need without delay.
Experience Excellence:
Sit back and relax as we deliver top-notch cleaning services to your doorstep. Our skilled professionals take care of every detail to ensure exceptional results.
…
Read More
Hassle-Free Payment: Conveniently settle your payment using a variety of options, including Big Mama credits, credit cards, debit cards, GrabPay, or PayNow. We aim to make the payment process seamless and hassle-free.
Location Coverage:
Our services extend across the entire island of Singapore, bringing the convenience of Big Mama's expertise to your doorstep. From the heart of the city to suburban areas, we are dedicated to serving you wherever you are located.
Frequently Asked Questions About Our Dry Cleaning and Laundry Services in Singapore
At Big Mama, we believe in providing holistic home cleaning solutions to meet all your needs. Besides our curtain dry and steam cleaning services, we offer a wide range of additional cleaning services that can transform your home into a spotless and refreshing environment. Some of these services include carpet cleaning, sofa cleaning, mattress cleaning, and much more.
Laundry & Dry Cleaning
Laundry: From $1.50 onwards
Dry Cleaning: From $2.50 onwards
Experience the pinnacle of convenience and freshness with our comprehensive Laundry & Dry Cleaning services.
From meticulously cleaned garments to free pick-up or prompt doorstep delivery for orders worth $40.00 and more, Big Mama ensures your laundry needs are met with care and precision.
Alteration
Explore the world of perfectly tailored clothing with Big Mama's Alteration services.
Discover affordable and skillfully executed alterations that ensure your garments fit like a dream. Wondering about costs? Our transparent pricing ensures you receive exceptional value for every alteration, making us a standout choice in the Singapore market.
Curtain Cleaning
Laundry: Between $2.00 – $17.50/piece or kg
Dry Cleaning: Between $3.00 – $20.50/piece or kg
Revitalise your living spaces with Big Mama's Curtain Cleaning services.
Our expert touch renews the beauty of your curtains while extending their lifespan.
Experience a fresher and more inviting home with professionally cleaned curtains that make a lasting impression.
Bag Cleaning
Bag Cleaning: From $70 onwards
Bag Repair: Price will vary depending on the complexity of the repair
Rediscover the allure of your beloved bags with Big Mama's Bag Repair and Cleaning services.
Our gentle yet effective formulas restore your bags to their pristine condition, leaving them looking as good as new. And when you leverage our repair services, our specialists carefully choose the most suitable tools and materials based on your bag's condition for a renewed appearance.
Shoe/Sneakers Cleaning
From $70 onwards
Shoe Repair – Prices vary depending on the condition of your shoes
Give your footwear a fresh start with Big Mama's Shoe/Sneakers Repair and Cleaning services.
Say goodbye to stubborn stains and hello to renewed vibrancy. Our expert cleaning techniques breathe new life into your shoes, ensuring they stand the test of time.
Upholstery Cleaning
Mattress: Between $100 – $170
Sofa: Between $60 – $220
Carpet/Rug: Between $110 – $260
Transform your upholstery with Big Mama's Upholstery Cleaning services.
Our advanced methods rejuvenate your furniture, including sofas, mattresses, and carpets.
Experience the luxury of refreshed and pristine upholstery that enhances the comfort and elegance of your space.
House Cleaning Service
General Cleaning: From $150 per session
Moving In/Out Cleaning/ Spring Cleaning: From $325 per session
Experience the epitome of cleanliness and comfort with Big Mama's House Cleaning service.
Our comprehensive solutions cater to your unique needs, creating a hygienic and inviting living space. Enjoy the luxury of a professionally cleaned home that reflects your impeccable standards.
Stroller/Car Seat Cleaning
Ensure the well-being of your little ones with Big Mama's Stroller and Car Seat Cleaning services.
Our 100% non-toxic UVC sterilisation coupled with Antimicrobial coating methods provide a safe and hygienic environment for your baby.