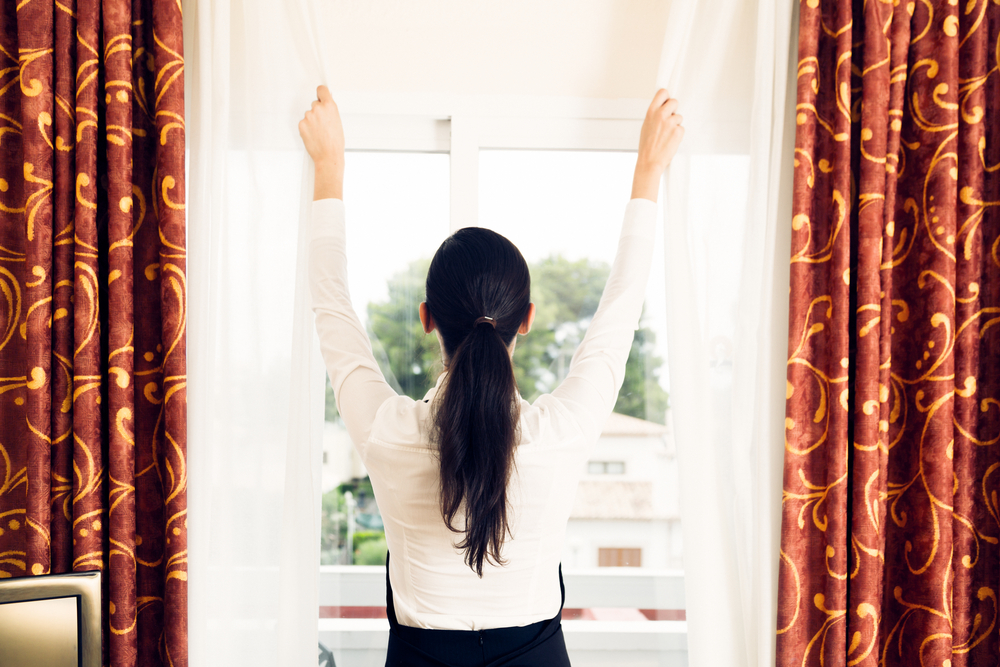 When it comes to finding the perfect curtain style for your home, it is good to know the types you can choose from as they come with a particular feel and used for different purposes. Various fabrics can affect how curtains look and hang in your home. These fabrics play a big part in how durable they are and the way you need to care for them. For instance, heavyweight materials like polyester can be hand washed in lukewarm water or curtain dry-cleaned by a professional in Singapore, whereas linen curtains are best left to the latter.
With so many options to choose from it can be easy to get confused, which is why we've put together a guide to the different types of curtain fabrics and how to care for them.
1. Day curtains
Day curtains are often designed to let the light shine through and utilise billowy and translucent materials – although they can also come in strong colours too. Two of the most common material types include linen curtains and silk curtains.
Linen
Linen curtains are typically sheer with a luxurious feel that offers an airy but tailored look for home. The natural lighting combined with the rippling feeling that lined curtains give off is very stylish and looks great everywhere, from your bedrooms to your living and dining rooms. To maintain their contemporary aesthetic, it's best to get your linen curtains dry cleaned regularly, to avoid any dirt and bacteria build up, especially with the humid weather in Singapore. An important note is to always hang linen curtains up after cleaning to keep them wrinkle-free.
Silk
Silk curtains are another luxurious material that look fantastic as a day curtain. Unlike linen, they're a little bit heavier, so they drape well and offer a more formal look. However, keep in mind that silk can easily be damaged by the sun so you'll likely want to find silk curtains with lining to protect them. Also, when it comes to cleaning, you can hand wash them in lukewarm water but for best results, we recommend engaging the service of a professional curtain cleaner.
2. Night curtains
While day curtains are designed to let the sun in, night curtains are made to block the sun – and any other bothersome light – out. For this purpose, they're generally made out of heavy, weighted fabrics, are completely opaque and feature dark colours. A favourite material choice is polyester.
Polyester
Polyester is durable, affordable and long-lasting with the right care, so it's no surprise that it's one of the top fabric choices for night curtains. Available in a wide range of colours and styles, polyester curtains are perfect for bedrooms where occupants like to add a bit of personal flair – though it's best to keep them out of the kitchen as they're prone to absorbing food odours and can be flammable.
However, the best thing about polyester curtains is that they're easy to maintain, just a quick vacuum and machine-wash on a gentle cycle at a cold temperature will do the trick. Of course, not everyone has time for that so you can always trust the professionals and hand them off to a curtain cleaner in Singapore.
3. Blackout curtains
As you might have guessed, blackout curtains are used to obstruct any visual disturbances, in the day or a night. They're great if you have family members who need to take naps, suffer from regular migraines or simply like the privacy they afford. Like night curtains, a common fabric choice for blackout curtains is polyester, as well as other materials like velvet or cotton.
Velvet
If you've ever had velvet clothing, you'll know that it's a heavy fabric, but what you might not realise is that when used as a material for curtains, it's great for keeping out both the sunlight and the cold. Also, velvet curtains comes with a level of thickness that dampens loud sounds, which is great if you're trying to get a little shut-eye during the middle of the day. To keep velvet curtains soft and velvety, take them to be dry cleaned at least once a year by a professional in Singapore. Or, if you prefer to do it yourself, you can gently vacuum them, spot clean or hand wash with soapy water, and then drain and rinse off.
Cotton
When you first think of cotton curtains, the first that springs to mind is probably a lightweight material, but cotton is a diverse fabric that makes a great blackout curtain too. To ensure your cotton blackout curtains keep the sun out, look for ones that have a tight weave that won't allow light and disturbances through. Also, avoid cotton curtains that include PVC lined cotton fabrics as they're notoriously difficult to clean.
Once you've found your perfect set of curtains and have them hung in your home, don't forget to take them to professional curtain dry cleaners if cleaning them on your own is a little of a hassle. At Big Mama Home Services, we offer cheap curtain dry cleaning in Singapore for all types of fabrics.